A Holiday Reminder from Shockley Electric
According to the National Fire Protection Association, temporary wiring and electrical cords are responsible for over 25 percent of electrical system fires each year. Whether it is due to old, faulty wiring or overloading a power strip during the holidays, electrical fires can happen for many reasons.
Electrical fires can be prevented, and that's why we put together these essential home electrical fire safety tips.
1. Don't Overload Electrical Outlets
Electrical overloads can be very dangerous. If you have too many high-wattage appliances plugged into an outlet, a short circuit could potentially occur and result in a fire. Resist the temptation to use an extension cord as a solution.
2. Don't Run Extension Cords Through Walls
And don't run them under carpet, around corners, around beams or under doors. Especially with carpet, a faulty extension cord could potentially create sparks that cause a fire to ignite. Always throw away damaged cords and don't try to repair them. Also, be sure only to use surge-protected power strips and to inspect for damages often.
3. Install and Ground Fault Circuit Interrupters (GFCIs)
GFCIs are the perfect solution for outlets in areas which are continuously exposed to water, including bathrooms, laundry rooms, and outdoor outlets. They contain special built-in mechanisms to prevent electrical ground or short circuiting.
4. Examine Deficient Switches and Outlets
It's important you inspect your light switches and electrical outlets for any deficient signs that could be potential warnings. Faulty switches are ones that can get particularly warm or shock you upon touch, which can be caused by exposed or deteriorated wiring. These can cause fires behind your switches, outlets and walls. If you spot any warning signs, remember to call your local electrician.
Avoid Tragedy – Follow These Electrical Fire Safety Tips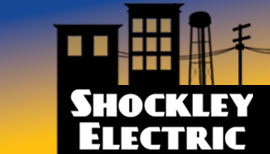 If there are any indications of faulty wiring or anything else in your home, you need to call an experienced and qualified electrical professional immediately. The risk of fire or injury makes electrical DIY very dangerous. Call Shockley today for a recommendation and solutions to make your electrical use safe! With over a decade of experience, we take great pride in being the Marietta electrician people call first.
Call Shockley Electric Today – (770) 630-6858