A GFCI outlet is actually a replacement for a standard electrical outlet. It protects any appliance plugged into it, and can also be wired to protect other outlets that are connected to it. The GFCI outlet is part of a GFCI circuit breaker. The breaker controls an entire circuit, and is installed as a replacement for a circuit breaker on your home's main electical panel.
Use a GFCI Outlet Near Water …
GFCI outlets must be installed in any area where electricity and water may come into contact, including basements, pools, spas, utility rooms, attached garages and outdoors. At least one GFCI outlet is required in an unfinished basement and for most outdoor outlets. Any bathroom or garage outlet within 6′ of a sink must be GFCI protected. The code also requires that all kitchen outlets for countertop use must be GFCI protected.
… But Not with All Appliances
But don't plug big appliances such as refrigerators, freezers and sump pumps into a a GFCI outlet or circuit. It's also not a good idea to put lights on GFCI circuit – you don't want to be left in the dark if the circuit trips.
One GFCI Outlet Protects the Whole Circuit
One GFCI circuit breaker can protect the entire circuit. There is a test button and a reset button on these units. If you press the test button the reset should pop out. To reset just push the reset button in. And be sure to make testing your outlets part of your annual electrical inspection.
Call Shockley for Electrical Service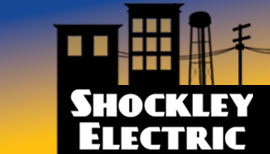 At Shockley Electric, we can perform an annual electrical inspection and help you with all your residential electrical needs. With over a decade of experience, licensed and insured technicians and a lifetime warranty on labor, we take great pride in being Marietta's best electrician.
Call Today (770) 630-6858