Commercal property managers have many choices to get the job done, but the field narrows when reviewing customer service and satisfaction. At Shockley Electric, we focus not only on getting the job done right, but on providing exceptional customer service to our clients. Our goal is to be the best commercial electrician in Marietta GA.
What is "Exceptional Customer Service"?
While most professionals strive to meet the needs of their customers, "exceptional" customer service goes beyond what is expected. In effect, an exceptional experience raises the bar for any other contractor with whom that property manager will do business in the future.
An acceptable customer service experience is one in which the necessary work is performed in a timely manner, as unobtrusively as possible. An acceptable electrician may get a call back, but may not garner a rave review (and often won't request one).
In contrast, an exceptional experience is one in which the electrician has a dialogue with the property manager and/or tenant before the service call in order to specifically identify the problem and be prepared with the proper solutions. He performs the required work, identifies and suggests solutions for potential problems that may arise down the road, and checks back afterward to ensure the client is completely satisfied with the service.
Read a Few Reviews from Satisfied Customers
… Extremely Knowledgeable …
As a commercial property manager I am always looking for quality vendors. Christian with Shockley Electric will absolutely be my go to when I need an electrician. He showed up on time after communicating with me throughout the process. He fixed two issues for me and both were perfect. I found him to be extremely knowledgeable and I was really pleased with his work. I will be using him again and I highly recommend.
Great Job!
Thanks for quickly and properly assessing and installing the correct motion / audio detection switches need for our warehouse bay area. They work great! The convenience of not having to find the switch allows us to enter that space safely, usually with our hands full, wrestling car wrap material, making us more efficient. Appreciate your professionalism and willingness to makes ours a better, safer, more efficient work space. Great Job!
At Shockley Electric, we want to be the best commercial electrician in Marietta GA. We meet – and exceed – the expectations of our commercial property clients. And with our Lifetime Service Warranty, you can rest assured that we'll be there when you need us, and get the job done right the first time, every time!
Working to be the Best Commercial Electrician in Marietta GA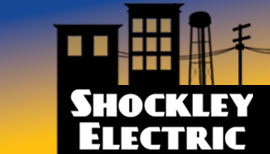 Call Shockley Electric today for a recommendation and solutions for your commercial electrical requirements and repairs! We can answer all of your questions about lighting, outlets, and any other electrical concerns you may have. And we guarantee our work, for additional peace of mind!
With over a decade of experience, we take great pride in being your commercial electrician of choice.
Call Shockley Electric Today – (770) 630-6858