Deciding to install or add electrical service to commercial property can be a large project to undertake. Obviously, reviewing a few things before you hire anyone is a smart move. Keep these tips and advice in mind when hiring a commercial electrician for your commercial project.
Licensing and Insurance is a Must
One thing that you should make sure to do before hiring a commercial electrician is to make sure that they are licensed. This is something that is extremely important because you want to make sure that you are hiring someone who is fully qualified for the job. Being licensed also means that they would be fully covered with insurance. You do not want to hire someone who does not have insurance because if something were to go wrong, your company would be responsible. With insurance, they are the ones that will be responsible.
References are Required
Be sure to check references and review previous projects. A good variety of commercial reviews and references only strengthens the chance that they will be good at their job and will do the best job for you as well.
Ask Questions
Before hiring your electrician, make sure to ask them questions. You should know if they have any concerns about the job before they actually take it on. This will also give you a chance to see if there will be anything else that they think the job needs or if they think something would be better for the building you are operating in, compared to what it is that you want.
Call Shockley When Hiring a Commercial Electrician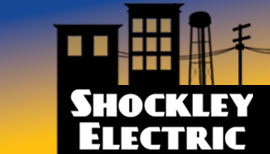 When you're ready to hire a commercial electrician, call Shockley Electric. We can offer advice, estimates and options for your commercial property projects. With over a decade of experience, we take great pride in being the commercial electrician Marietta calls first.
Call Today (770) 630-6858