Which Will You Choose?
If you have electrical repairs or projects to complete, you may be wondering if an electrician might be more expensive than a handyman. You're faced with the question – electrician vs handyman? And though a 'handyman' might be able to do the job for you, there's often a chance that he might not. Even worse, unlicensed work could cause potential fire hazards or more expensive electrical repairs down the road.
Don't Risk Your Safety
With most work in a project being covered behind walls, wire junction boxes, or hard-to-access places, it's often easy to hide unsuitable work from you. Almost any household item, like tape or paper clips, can quickly be used to 'fix' a problem.
Improper techniques leave electrical wires at-risk for being cut, pinched, or exposed. Again, you might not even ever know about the potential threat because it's hidden.
Is the Work "Up to Code?"
Electrical codes are essential to your safety and property. So if you attempt any electrical work by yourself or by a repair handyman, you don't necessarily have a guarantee that all the work will be safe and up to code.
Does the Work Require a License?
A handyman might have some electrical skill but not be recognized as a licensed contractor by the law. A contractor license is required in Georgia for residential or commercial project that exceeds $2,500 in value. This includes all electrical, plumbing, and conditioned air contractors. Journeymen and masters are also required to be licensed. Jobs costing less than $2,500 or nonstructural work with no subcontracts do not require a license.
Hiring any handyman for a job more than $2,500 is illegal. If you hire an unlicensed worker to save money, you're taking a huge risk. It's very possible you could end up paying more in the end.
Electrician vs Handyman? Don't Take Chances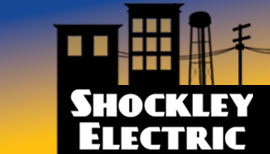 At Shockley Electric, we help you with all your residential electrical needs. With over a decade of experience, licensed and insured technicians and a lifetime warranty on labor, we take great pride in being Marietta's best residential electrician.
Call Shockley Today (770) 630-6858