Whether you're planning a big project, or just changing out the appliances, regular home maintenance increases the comfort of your home. And with electrical maintenance and improvements, you can ensure the safety and value of your home. These popular electrical upgrades will be sure to meet the convenience and safety needs of your family for years to come.
Electrical System Replacement
The older your house is, the greater the chances are that you need to replace your wiring. Outdated electrical systems aren't capable of powering modern electronics and appliances, which can put your home in danger of electrical fire hazards. Without upgrading your electrical system, you could face additional electrical costs down the road.
GFCI Outlet Installation
Valuable to have in any home, ground fault circuit interrupter (GFCI) outlets prevent shocks from occurring in wet locations. To ensure family safety and protection, have GFCI outlets installed in the kitchen, laundry room, any bathrooms, and outdoor workspaces.
Dimmer Switch Installation
Traditionally considered mood lighting, dimmers actually give you more control over your home's electric use. This upgrade option is ideal for the kitchen, living room or bedroom.
Wireless Remote Control Lighting Installation
If you're looking for a total upgrade, install wireless lighting to control all the lights in your home with complete convenience.
Get Electrical Upgrades for Your Marietta Home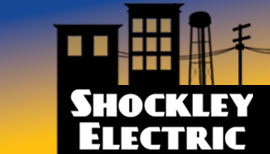 At Shockley Electric, we can help you with all your residential and commercial electrical needs. With over a decade of experience and quality reviews, coupled with licensed and insured technicians and a lifetime warranty on labor, we take great pride in being Marietta's best electrician. Call us today – don't neglect these electrical upgrades for your Marietta home.
Call ShockleyToday (770) 630-6858