Factors for Making a Smart Decision
When you need to hire an electrician for your commercial project, it's important to consider a range of factors when making your decision.
1. Are You Licensed?
Not all contractors that do and promote for electrical work are licensed. This tends to be the case especially when it comes to smaller projects.
And not all contractors are up-to-date on the latest code requirements, nor do they neccessarily adhere to current professional standards. You should insist on any job, large or small, that your contractor demonstrates adherence to code and license requirements. Not doing so could mean more costs in the future to re-do a non-compliant job.
At Shockley Electric, every electrician holds an Unrestricted License within the state of Georgia.
2. How much experience do you have?
Again, make sure your electrician knows what they are doing. There is a big difference between journeyman and master electricians. And ensuring that they have the related job experience to meet your needs is vital.
If you have a large commercial project, you will want to hire one that has a related background to the type of job in order to fully meet your expectations. Any reliable, trustworthy electrician will be able to answer your questions and provide job references if needed. At Shockley Electric, we're able to do that.
3. Is the work guaranteed?
Another essential question to ask an electrician before hiring is whether the work is guaranteed. Should any problems arise following the completion of the work, you will need to know who will be responsible for the costs.
If your commercial electrician in Marietta GA cannot produce a solid answer, we recommend looking for another contractor. At Shockley Electric, our work is guaranteed
Your Commercial Electrician in Marietta GA is Shockley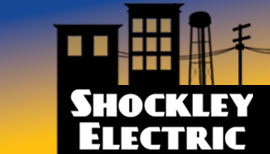 At Shockley Electric, we can help you with all your residential and commercial electrical services. With over a decade of experience and quality reviews, coupled with licensed and insured technicians and a lifetime warranty on labor, we take great pride in being Marietta's best electrician. Call us today for commercial electrical work in Marietta and north metro Atlanta.
Call Shockley Electric Today (770) 630-6858